Decorating your home can be a daunting task. There are so many options to choose from, and it's often hard to know where to start. One of the best ways for decorating your living space is through accent chairs. They provide you with an opportunity to show off your personality or make a bold statement in any room of the house without having to do much work! The key is finding accent chairs that match both your style and needs, but don't worry- we'll help you out with that too.
Slipper chair accent chairs are the least expensive type of accent chair. They're usually made with leather or fabric and come in a variety of colors. The slipper accent chair is very comfortable, but you won't get much support for your back while sitting on it for extended periods of time.
Barrel accent chairs are very similar to accent chairs. They're made with a round or oval-like frame, are upholstered in leather or fabric and come in many different colors. A barrel accent chair is perfect for those who want something cozy but not too big - it's usually low to the ground, so it doesn't take up much space at all.
The Klorey Accent Chair in Khaki by Signature Design by Ashley.
Swivel chair accent chairs can add style and sophistication to your room if you like a modern look. Swivel accent chairs are great for entertaining because they're comfortable enough to sit in and are great for conversation areas where everyone will want to sit down together. These accent chairs are made of leather and different types of fabrics and colors. Our store is so customizable, we can help you find the swivel chair of your dreams.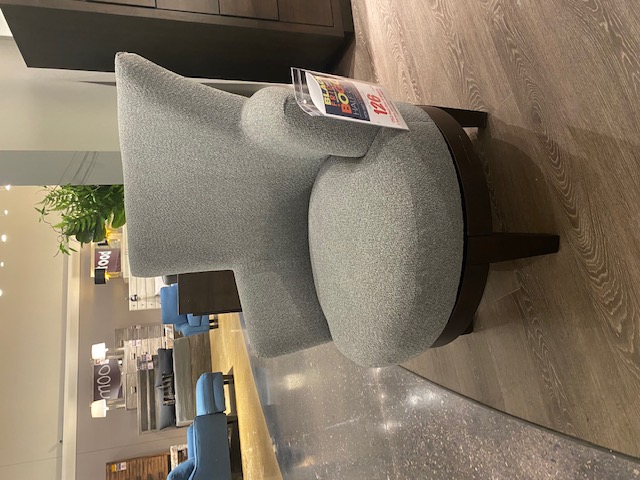 The Justine Swivel Chair's covering comes in hundreds of options for customization.
Wingback chair accent chairs come up higher than other types of accent armchairs. These accent chairs have a tall back and armrests that help support your body when sitting. They're known for their elegant design, with curves on the arms of the chair, as well as in how it's upholstered.
LaCroix Accent Chair by Paragon.
Club accent chairs are great if you want to sit low to the ground while reading or eating. These accent chairs come up higher than a standard accent armchair, but they're not as high as wingback accent armchairs. Club accent chairs were originally made for gentlemen's clubs and smoking lounges because of their low seating height and the ability to recline back slightly.
Triptis Accent Chair by Signature Design by Ashley.
How to Decorate:
Placing a pillow or two on accent chairs is a great way to decorate with comfort in mind. The colors and patterns of pillows are easily accentuated when choosing this type of accessorizing option against the solid color or patterned fabric found on most accent chairs. If you're looking for something that pops out at first glance, then go bold with bright hues and vivid prints.
A cream throw by Signature Design by Ashley.
The addition of throws to accent chairs is another great way to accessorize this type of furniture. Throws come in different patterns which can be easily paired against most types of accent chairs - so don't neglect this simple but effective idea for adding finishing touches. If you want something soft yet dramatic, choose faux fur throws . For additional comfort include small accent pillows in solid contrasting colors to add dimension and interest at the same! This will help keep an air of sophistication in your accent chairs and room.
Accent chairs are great pieces of furniture to express your creativity or inject your personality into a room. Will you do a pair, or just one chair off to the side? What colors will you choose to complement your room? Accent chairs are exciting and often affordable furniture to add to your home, so visit The Furniture Mall of Texas where we have many options available for you to test out.
Written by Emily Holleran