The chill of winter is upon us, and it's time to get comfy. Whether you're looking for a cozy space to relax after a long day or the perfect spot to cuddle up with your favorite book, creating a warm and inviting atmosphere in your home is an absolute must for the winter season. And thankfully, it doesn't have to be hard! Here are 7 ways to create a cozy winter hideaway in your home this season.
1.) Bring On the Blankets!
Nothing says cozy quite like blankets! If you want to create a warm and inviting atmosphere in your home during the winter months, adding lots of extra blankets around the house is a must. Throw blankets draped over furniture or on the floor can add instant warmth, while extra quilts at the foot of your bed make it feel like you're tucked away into a little cocoon at night. Plus, they come in all sorts of colors and patterns so you can easily customize them to match any style.
This is a FAUX fur throw that we have at the Furniture Mall, and it is perfect for adding a cozy touch to any room. Though not genuine fur, the faux fur is a great way to add warmth and texture without breaking the bank.
2.) Light the Fire
If you have a fireplace in your home, then why not take advantage of this wonderful feature and light a fire during the wintertime? A crackling fire in the fireplace can make any room feel warm and inviting. Plus, if you don't have a real fireplace, there are plenty of electric fireplaces that you can use to get the same cozy effect.
The Furniture Mall has several electric fireplaces that also double as TV stands. These are perfect for creating an instant cozy atmosphere in your living room or bedroom. This is the Camiburg 60" TV stand with electric fireplace and its perfectly rustic for modern farmhouse or contemporary interiors.
3.) Bring in Some Soft Lighting
Soft, ambient lighting can make any space feel cozy and inviting. Set up string lights around your living room or bedroom, use table lamps to cast a gentle glow, or opt for a dimmer switch so you can adjust the brightness of your overhead lights. Whatever you choose, be sure to add some extra lighting to make your home feel warmer and cozier.
This Taliya arc lamp has a dimmer switcher, and the glass globe shades soften the light from being as harsh.
4.) Add Lots of Pillows
Nothing says comfortable quite like lots of pillows. Adding extra soft cushions to your furniture is an easy way to make any room feel cozy and inviting. Plus, there are so many styles and colors to choose from that you can easily customize your pillows to fit any décor.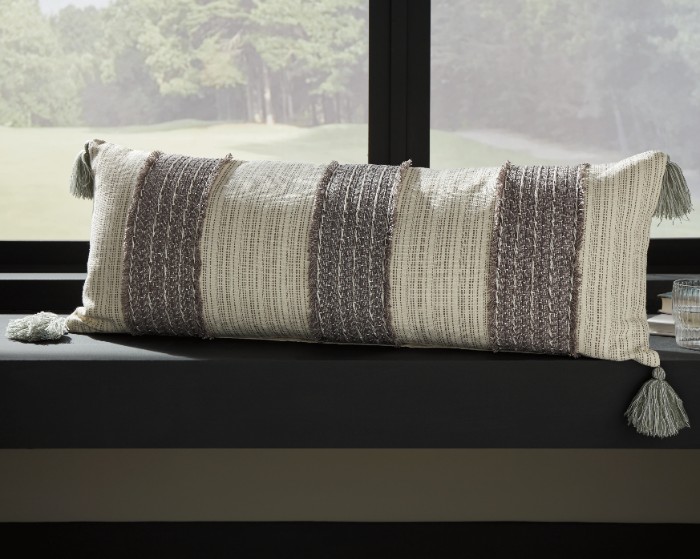 This long Linwood pillow is a perfect neutral tone to complement a modern sofa, but throw in some other shaped pillows, with brighter colors, and you can get creative with your design style.
6.) Candles Are Your Friend
Candles are one of those timeless staples that never really go out of style—and for good reason! They instantly transform any space into something magical and special. When it comes to creating a cozy atmosphere during the winter months, candles are essential! Not only do they look great when lit up in the evening, but many also come with calming scents that will help you relax after a long day (think cinnamon spice or vanilla bean).
We have several stylish candle holders at the Furniture Mall that will heighten the candle-lighting experience. This set of lanterns acts as beautiful vessels for your candles, and the handles make it easy to transport whether you want to illuminate the inside or outside of your home.
7.) Create A Nook For Reading & Relaxing
Everyone needs their own special spot where they can curl up with their favorite book or just take some time to relax—so why not create one in your own home? Designate an area of your living room as "the nook" by adding some extra pillows and blankets, along with a bookshelf and a little side table to keep some hot cocoa within arm's reach.
This is a cute and cozy bookcase, built from iron and acacia. The natural elements of this bookcase will create a sense of serenity and is small enough to fit in a nook no matter how small the space.
Time to Get Cozy
This winter season don't let chilly temperatures keep you from feeling warm and comfortable at home—just follow these 7 tips for creating a cozy hideaway inside instead! From bringing on the blankets to investing in soft fabrics that make you feel good, there are lots of simple ways to set up an inviting atmosphere no matter how small (or big!) your space may be. Now go forth and get cozy!
The Furniture Mall has over 50 brands to look and choose from, so you're bound to find something you like in just one stop. We have several locations spread out amongst several states. Olathe and Topeka, Kansas have stores, as well as Austin, Texas. We also just opened a store in Lee's Summit Missouri! We'll help you get cozy at The Furniture Mall, plus you can grab a cup of free hot coffee and homemade oatmeal chocolate chip cookies while you're shopping.