When it comes to home organization ideas, we know that there are many ways to keep a home tidy and in order. At Furniture Mall, we like to incorporate beautiful pieces of furniture into our organizational solutions. Read on to see our favorite organization tips and pieces of furniture to help keep your home in order.
Top Home Organization Tips
Keeping a home organized is no easy task. Everyone is busy, and when so many people still working from home, things can start to pile up—especially if you have kids or pets in the house. It is easy for items to end up in unusual or unwanted locations because there is no proper place to store them, and dog and kid toys can quickly clutter your house. Create a home for everything in your house with Furniture Mall's top home organization tips.
1. Use Storage Bins or Baskets
Storage bins and baskets are a huge organizational trend right now, and for a good reason. It is so easy to put odds and ends in a basket tucked away under a bench, on a shelf, or just on the floor. You can get storage bins in various sizes, shapes, colors, and styles, making them an easy organizational tool for nearly any household.
2. Purchase a Storage Cabinet
If you want to store things in something beautiful, a storage cabinet might be the perfect solution. At Furniture Mall, we carry accent storage cabinets in every style. Many cabinets are used in living rooms, family rooms, hallways, entryways, dining rooms, and bedrooms. Often, storage cabinets contain internal shelving that allows you to store many items in one hidden-away location. You can place decorative pieces on top of the storage cabinet to create more visual interest in your room.
3. Buy a Storage Trunk
Storage trunks are a great way to hold a lot of items in one convenient place. While trunks are traditionally found in bedrooms, many people have started keeping them in entryways and family rooms to keep items out of sight. Trunks can be used to store children's toys, blankets, shoes, backpacks and purses, and so much more. The versatility of storage trunks—due mostly to their size—makes them an organizational solution worth mentioning on our list. Plus, they can be quite beautiful.
4. Keep Shelves Tidy
Shelving is a great way to add décor to your home while keeping it contained and tidy. Shelves can add visual interest to a wall, but they can start to look messy when they get cluttered or overcrowded—keeping shelves tidy starts with choosing only a select few items to showcase. For example, a large shelf might contain a couple dozen books, a plant, a small statue, and photographs, while a small shelf is a home to just a single photo and a plant.
Shelves can also be added to laundry rooms and pantries for elevated organizational potential. When you add shelving to rooms just for organizational purposes, you can incorporate bins, jars, and other labeled components to create an easy-to-use system.
5. Get Drawer Organizers
Drawer organizers can help you keep your bathrooms, kitchens, and dressers more organized. While drawer organizers often go unseen, sometimes the unseen parts of your home are the most frustratingly messy. With drawer organizers, you can keep towels, toiletries, clothing, and more neatly housed in your drawers and cabinets. Keeping drawers organized will also help you keep items off your countertops, freeing up even more space.
Furniture Mall's Favorite Home Organization Solutions
At Furniture Mall, we have home organization solutions that fit the style and needs of homes throughout Kansas City and Topeka. Check out some of our favorite pieces of furniture for organizational purposes.
Highland Park Alvar Etagere Shelf
This unique shelf adds visual appeal to any room while still allowing for superior organization. With five shelves, you can add baskets and bins to this shelf to hide anything that doesn't look nice while showcasing your favorite books, photos, and more. We love that this shelf blends modern with traditional styles. Its unique Glazed Silver and Morel finishes are trendy right now, too.
Braddick Storage Trunk
The Braddick Storage Trunk by Signature Design by Ashley is a casual trunk with a vintage feel. We love that this storage trunk can fit into urban, modern farmhouse, contemporary, and traditional spaces with ease. This trunk comes with three different storage compartments that allow you to stay organized in style. This storage trunk can also double as a coffee table due to its lifted design.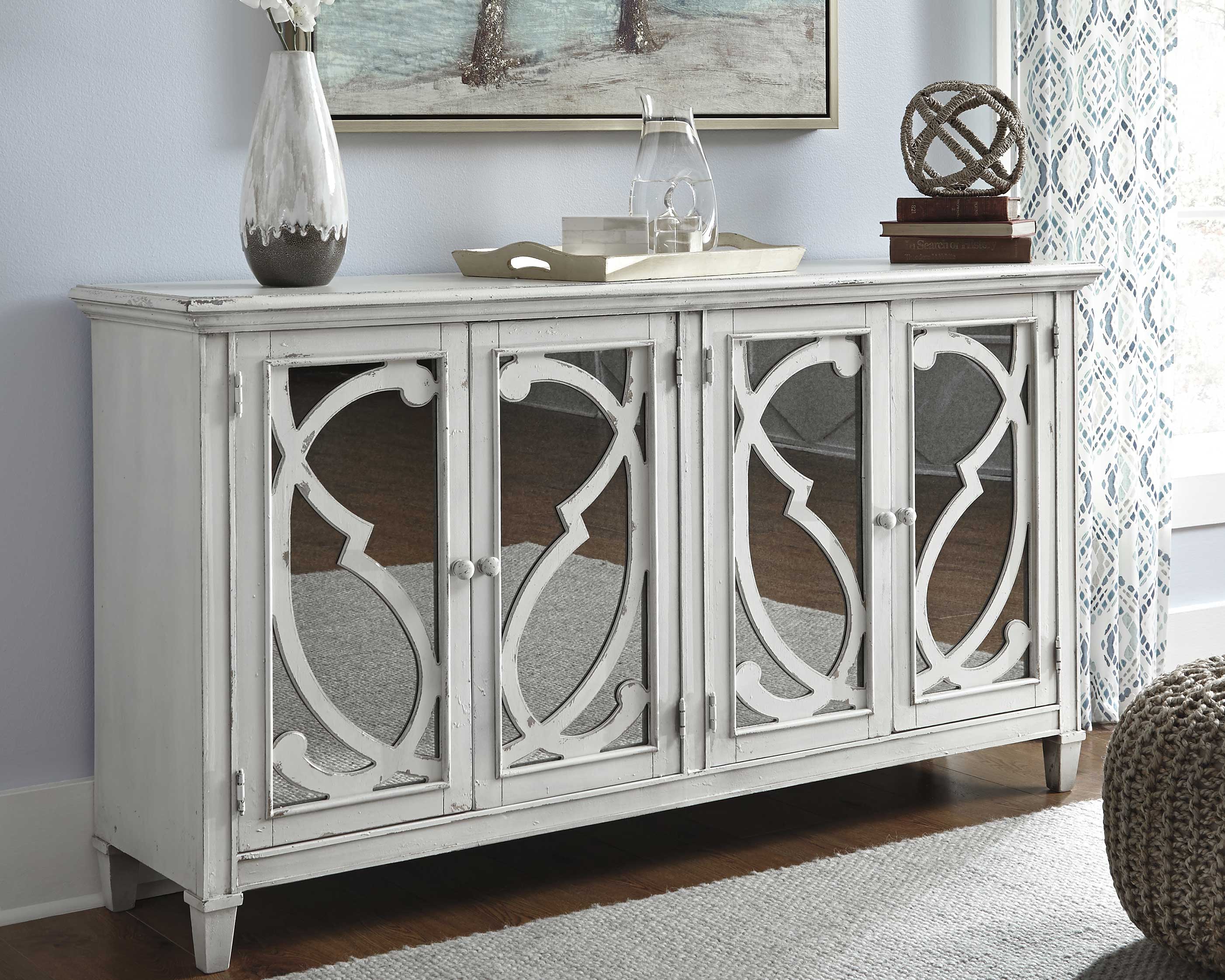 Mirimyn Accent Cabinet
The Mirimyn Accent Cabinet offers two adjustable shelves for you to place anything you don't want on display in your home. We like that this storage cabinet has an antiqued look, and the ornate filigree makes it look like a piece of furniture that could fit into a modern mansion. The doors include mirrored glass inlays for a stylish look in any room of your home.
Gilesgrove Bookcase
If you are looking for an industrial bookshelf, the Gilesgrove Bookcase is for you. The four-shelf bookcase is the perfect addition to any bedroom, office, or reading nook with a modern, industrial design. The metal frame of this bookshelf is sturdy but sleek. This bookcase is perfect for displaying your favorite reads, plants, and other small décor items. The shelves are also tall enough for storage baskets or bins.
To see more home storage solutions, stop into your nearest Furniture Mall location in Olathe or Topeka today.