Whether you're hosting relatives for the holiday season, or new friends who are visiting town for an upcoming conference, guest rooms can be a great way to make visitors feel at home. But if your guest room is looking more like a guest space than an actual guest room, it's time to get creative with your decorating! Here are some of our favorite guest-room design ideas that will help set the mood and create an environment where guests can truly relax.
Type of Bed
There comes a time in every adult's life where an air mattress just won't cut it for guests. The guest room needs a comfortable place to sleep, so the bed is going to be one of your first considerations. There are many different types of guest beds to choose from, including futons, sleeper sofas, and daybeds. King and queen-sized beds are accommodating but often expensive. If you live in a smaller space, but still want your guests to be comfortable consider daybeds that combine a chaise lounge, a couch, and a bed. They're more elegant than a futon and serve the same purpose. More traditional beds such as queen or king-sized are safer choices to make sure your guests have enough space to spread out to their content.
https://www.thefurnituremall.com/shop-bedroom-furniture/beds/signature-design-by-ashley-grp-b743bd-realyn-twin-day-bed-with-storage.html
Although a kid's bed, this Realyn Day Bed has storage below to give you an idea of a versatile furniture piece.
Mattresses
At The Furniture Mall, we have our Mattress Headquarters where our sleep specialists give you a support report to find a mattress that's right for you. Of course, every guest that stops by will have different requirements for their most comfortable sleep, but we have popular brands such as Tempur-Pedic and Sealy that can encompass most of your mattress requirements.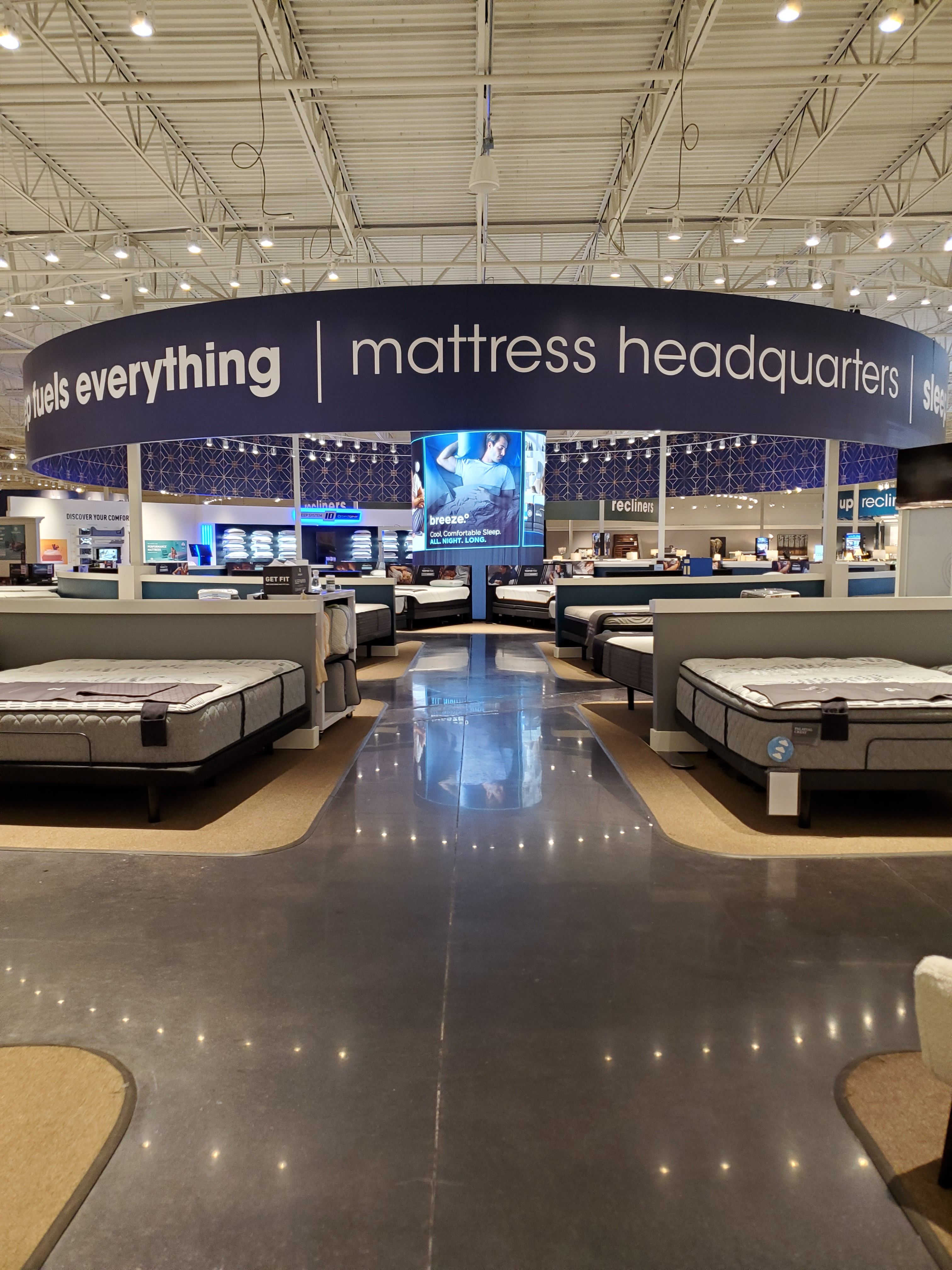 Our mattress headquarters, inside The Furniture Mall of Texas.
The Tempur-Adapt® Medium Mattress by Tempur-Pedic.
Bed Frames
Depending on the design style of your home, you'll want a cohesive look for your guest's bed frame. If your home is rustic, a distressed wood bed frame complete with wood knots is a charming choice. Divan bed frames are a great modern choice, and often have extra storage underneath which can benefit your guests. A mid-century modern wooden frame has a simple design but adds a classy touch. Consider the look you want for your guest room, and choose accordingly.
Troubadour King-Sized Bed from the Green Gables Collection is now In Stock.
Decorative Pillows & Coverings
Cover the bed with plush pillows for a warm welcome that also adds comfort during overnight stays. You can never have too many decorative pillows! Try using long accent pillows on top of your guest's standard pillow for some extra flair without sacrificing sleep quality. Throw blankets are another great addition if you want something lighter than traditional bedding but don't feel like breaking out the comforter just yet.
The Nellie Pillow brings a pop of orange to this bed set.
Dressers
Guests may choose to live out of their suitcases, but if they're staying for a longer period of time, they'll want somewhere to organize their possessions. Dressers are the perfect guest room piece to provide storage space. They come in many styles and can match your guest's existing furniture for a cohesive look throughout their entire stay.
Dresser and Mirror by Easy Living with a Rustic Grey Finish.
Coffee Table & End Tables
To make sure guests always have somewhere to set down their drinks, coffee tables and end tables should be an essential part of any guest-room decorating plan. There are several different types of these pieces that will fit into every design scheme while also making it easy for them to relax after traveling all day or attending work events during their visit. Some popular choices include nesting tables, tall side tables with drawers, ottomans that serve as both seating and storage areas.
Round side table from Bernhardt with a Basalt finish.
Décor
The guest room should have a warm and inviting atmosphere so guests feel comfortable. In decorating the guest room, this is achieved with soft colors such as blue or green that are relaxing for your guest to sleep in. Plants and flowers are also a great guest room addition that can increase the feeling of comfort and relaxation. You'll want to provide some extra blankets or comforters in case it gets too chilly, and simple décor such as art, wicker baskets for additional storage space, and furniture with luxurious fabric finishes will all contribute to your guest's relaxed atmosphere during their stay.
Vase from the Marcin Collection gives a modern farmhouse look.
Lighting
How will you be able to decorate a guest room if there isn't enough natural light? Guests need ample lighting so they can fully enjoy their surroundings without stumbling over furniture in the dark. Make sure every corner of the guest room is illuminated with lamps on tables next to chairs or loveseats where people might want extra reading lights. Floor lamps are usually taller than standard lamp designs which allow light to spread out further across larger spaces without getting too harsh on any one area of furniture or décor design choices
A floor lamp from Signature Designs by Ashley's Garville Collection.
Your guest room should be a place where your guest can feel at ease and comfortable after their long journey. Decorating guest rooms doesn't have to be difficult, as long as you focus on providing the basic necessities such as furniture and décor without going overboard. Consider the look you want for your guest room before selecting furniture so they will all match and provide a cohesive guest bedroom design scheme. The Furniture Mall has locations in Austin, Topeka, and Olathe that have many options to choose from. You'll be our guests while shopping for your own.
Written by Emily Holleran