Sleeper sofas are one of the best pieces of furniture you can buy. They offer great comfort and functionality and can be a real lifesaver for small spaces. If you're in the market for a sleeper sofa, there are a few things you need to know before making your purchase.
In this Furniture Mall guide, we'll discuss the benefits of sleeper sofas and give you some tips on what to look for when shopping for one.
A Brief History on Sleeper Sofas
Not everyone questions the origins of sleeper sofas, but haven't you always wondered who had the ingenious idea to combine a bed and a sofa? Sleeper sofas have actually been around for centuries, with variations appearing as early as the time of Ancient Egyptians. They would lash palms fronds together to create daybeds [source: How Stuff Works]. Sarah E. Goode became the first black woman to receive a patent when she designed a folding bed that could fit in a writing desk. While there is no solid evidence of it being mass-marketed, it set a precedent for the inventions that would follow leading to sleeper sofas [source: How Stuff Works].
While not the exact daybed mentioned above, this was what a common Ancient Egyptian bed frame looked like. They were commonly made from wooden slates, plaited string, or reeds. Image source: Tour Egypt
The modern sleeper sofa was invented by an Italian immigrant named Bernard Castro. In 1931, Castro opened his Castro Convertible store in New York City and ended up selling over 5 million sleeper sofas before closing in 1993. His sleeper sofas were heavy and solidly built, but were still easy enough for his own daughter, Bernadette, to open [source: Simplicity Sofas].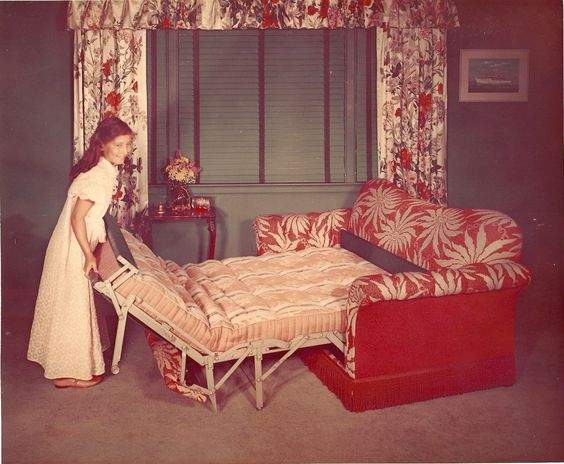 Bernadette starred in a commercial for Castro Convertibles that helped catapult her father's sleeper sofas to national fame. Image source: Simplicity Sofas
Today's sleeper sofas are much more comfortable and offer a variety of features that make them perfect for small spaces. sleeper sofas come in a wide range of styles, from traditional to contemporary, and can be found in a variety of materials, including leather, fabric, and microfiber.
Benefits of Sleeper Sofas
Sleeper sofas offer a number of benefits that make them a great addition to any home. Here are just a few reasons why you should consider purchasing a sleeper sofa:
- Sleeper sofas are versatile pieces of furniture that can be used as both a sofa and a bed. Versatility should not be an underestimated feature for furniture, as it makes all the difference when a piece of furniture can serve several functions.
This is the Haisley queen sleeper sofa by Benchcraft. Not only are the cushions of the sofa filled with high-resiliency foam, but the mattress is also made of quality memory foam. This is an all-around high-quality sleeper sofa.
- Sleeper sofas are perfect for small spaces because they don't take up much space when used as a sofa. With this new generation of people moving into "tiny homes" or renovating old buses and mobile homes, sleeper sofas are a perfect addition.
Can't get any smaller than a twin sleeper. This Smyrna twin sleeper by Tennessee Custom Upholstery is a simple, contemporary piece that is also available in larger sizes such as full and queen.
- Sleeper sofas are cost-effective options when you want or need to save money by not buying a bed and a sofa separately. Moving anywhere is expensive, and when you realize you have to fill your new home with furniture, you know it's going to be a long and financially painful journey. Cut costs by investing in a sleeper sofa.
The Donlen queen sleeper sofa is covered in white faux leather. It's tasteful and stylish as a sofa and still unfolds to a queen-size mattress. The memory foam mattress provides better airflow for a good night's sleep which you may not even get with a regular mattress.
- Sleeper sofas are perfect for overnight guests because they provide an extra bed without taking up much space. Instead of buying a separate bed and mattress for the guest room, you can buy a sleeper sofa for half the price and half the space.
This is the Serendipity queen sleeper sofa by Flexsteel Furniture. Its wide cushions and sleek arms create a welcoming seat for your guests, and the Splendid Comfort mattress will ensure they get a good night's rest.
What to Look for When Shopping for Sleeper Sofas
Sleeper sofas are a great addition to any home, but there are a few things you should keep in mind when shopping for one. Here are a few tips:
- Sleeper sofas come in different sizes, from twin to queen, so make sure you measure the space you have available before you start shopping.
- They also come in different materials, so decide what material would work best for your home. Leather sleeper sofas are great for homes with pets or children because they're easy to clean, while fabric sleeper sofas are often cozier and cheaper.
- Sleeper sofas usually come with a mattress, but it's important to make sure the mattress is comfortable enough for you. Otherwise, you'll be stuck with a sleeper sofa that's uncomfortable to both sit and sleep on.
- Take into account the different types of sleeper sofas before making your final decision. There are a few different types of sleeper sofas, including futon sleeper sofas, loveseat sleeper sofas, and sectional sleeper sofas. Each type has its own pros and cons, so make sure you know what you're looking for before making your purchase.
Any Style of Sleeper Sofas
The Furniture Mall offers a wide variety of sleeper sofas that are perfect for any home. With a variety of styles, materials, and colors to choose from, we have something for everyone. Our sleeper sofas are also available in a variety of sizes, from twin to queen, so you can find the perfect one for your space.
Stop by today and check out our selection of sleeper sofas. Our friendly and knowledgeable home specialists would be happy to help you find the perfect sleeper sofa for your home.
Written by Emily Holleran